Do you guys have anything else you use in addition to or in place of roof snot?
Roof snot, cling on etc are all variants of barlox 12. As long as you are using one of them you are good to go.
What are you using the 50/50 on? I use 4% and am basically melting moss down with that.
He is probably referring it to it like I do. Half water, half 12.5 SH. All this 4% 1.5% ratio stuff only popped up in the last 10 years or so.
Half SH and half water is 6%. 2 parts water and 1 part SH would be 4%
Can use arm and hammer with oxi clean in a pinch but roof snot is my go to
Good point. I have been navigating the highways with the herds of tourists for the last few hours, and it just struck me as a little overpowered, but it's not.
When your 12% costs close to $30 a gallon though, you tend to want to make it last and use only the strength needed.
Lol, I get the math. I'm just saying that it is a new thing to state it that way. Probably started when snake oil salesmen started selling soft wash stuff.
@Innocentbystander somebody should put together a thread with just your comments for two reasons: 1 there's a lot of good information. 2 some of your comebacks are hilarious
How much would one use of each of these per 10 gallon mix? Roof snot is being ordered Monday but I still ask for reference.
ALSO. I am seeing varying things written about the roof snot acting as a cleaner and other articles stating that it is not a cleaner…
Don't use that crap. Use professional products. You'll never run out of the right chemicals if you order before you need them
Don't over think it. Bleach kills the mildew. Surfactants usually just make it stick. If it has cleaning power, pretty smells etc, it's not enough to worry about. They are all the same thing basically. Usually when Bob at pressuretek comes out with something, Russ and the others follow suit.
I used arm and hammer with oxi clean once because i left roof snot in the shop. It worked great no problems at all.
Exactly for that exception where there is a job and literally and physically no roof snot, the plan B.
Roof snot, cling on , snotmonade re all good stuff. I was just throwing it out there arm and hammer will work if you forget chems or forgot to stock up and ran out. Everyone makes mistakes.
Not sure if its a cleaner or not. @racer said grab some roof snot to me once and ive bought it since. Ive used cling on before too. Him and @Diamond_Soft_Wash are the roof guru's i just go with what they say and dont ask questions lol
Heres 2 roofs cleaned with roof snot and bleach.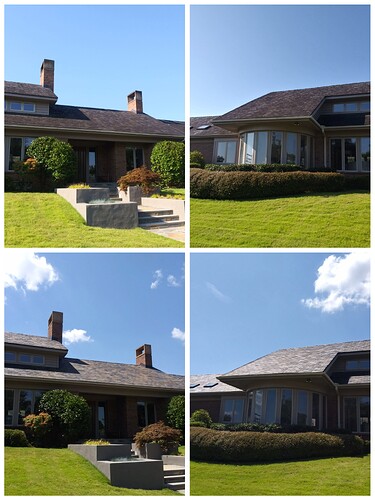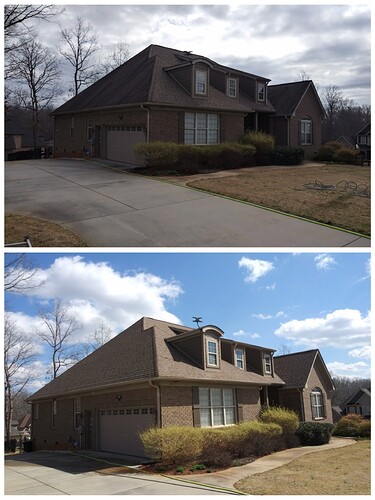 Ive got the same results with A&H but that should be used as last resort its not made for roofs. Like William said buy the right chems for the job. We are professionals
Always every short cut made, subtracts from the business's reputation and final product. Not worth it. Always comes back 10 fold to go the extra mile, pay the extra money and do whats ultimately correct.