Anyone have any input on how to remove oil based stain overspray from vinyl siding?
I tried everything and i mean everything i could think of and could not get 'readyseal' overspray off of white vinyl siding.
Will be following this thread…
Same, I don't bother trying and go to the next job.
I used cleansol BC (has sodium hydroxide in it, dissolvine, and secret sauce). I think I mixed it like 1:4 then cut in half or thirds, can't remember. I would just start off as diluted as possible then move up from there. Oh yeah, get your soft brush out (agitate and rinse).
pre wet (not soak) apply dwell apply dwell brush rinse. Just make sure there is nothing sensitive where you are rinsing too. I shouldn't have to say that, but I will.
Why cleansol? Because I'm trying to use it for everything to get rid of it, it is too expensive.
I'll try cleansol but It's going to remove the oxidation as well. Probably going to have to clean the whole side
You don't have to clean any of it. Don't use a a chem that you have altered or has a"secret sauce". Kinda hard to show a msds to something like that.
I used this on a vinyl fence two weeks after I stained the wood fence. The wood fence was my mom's. Somehow I missed the overspray when I was cleaning up. And I noticed it when I was back at her house a couple weeks later. Kinda surprised her neighbor never said anything.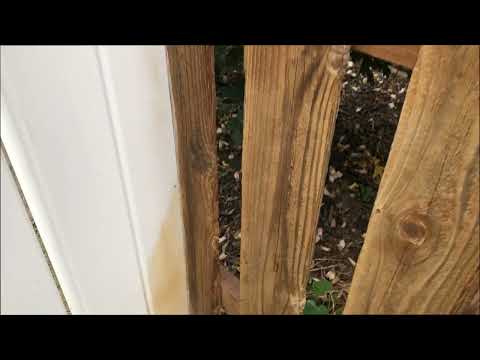 Xylene has worked out for me before, might be worth a try. Always do a test spot first tho.
Get a little bottle of PVC Pipe cleaner . I've used this a few times and it works great . The reason I suggest a small bottle is the stuff evaporates . If it sets on a shelf somewhere for a few months it all evaporates . But you just need a little 4 0z . It will take it right off and not ruin the siding. Doesn't need to soak either . Wipe on wipe off with more solution . Have to work fast
Trying this today! Will update you!
Any pvc pipe cleaner works? Which one do you use?
So save it for things it's meant to be used on…lol
nah, getting rid of the 5ver. Don't want to store it for winter. First frost this morning.
Good God I could never. Hats off to you cold weather inhabitants. Way tougher than me. But at least my vehicles don't have frame rot

I tried the PVC pipe cleaner. I bought the Oatey's brand. It did in fact lift the stain however, now I have areas where the siding is brighter where I applied it. I then came back the next day and hit it with Cleansol BC at a ratio of 20 to 1. It helped, but I'm wondering if I need to go stronger on the Cleansol?
note: I chose to use Cleansol BC on the entire side of the house to try and blend in the bright spots that were left from cleaning the stain off.