The time has come for me to upgrade to the next level of Pressure Washers; unfortunately, I cannot decided between my top 2 choices and I am coming out of the Pressurewashingresource.com shadows to ask the people who know more than myself to break the tie. I appreciate any and all opinions. I've gone through previous posts but wasn't able to find anything directly related to either machine.
Most of my business consists of house washing, decks, fences, driveways/walkways, RV's, etc. I DS SH and use OX or critic acid on woods.
TALE OF THE TAPE:
NorthStar Gas Cold Water Pressure Washer — 3000 PSI, 5.0 GPM, Honda Engine, Model 157130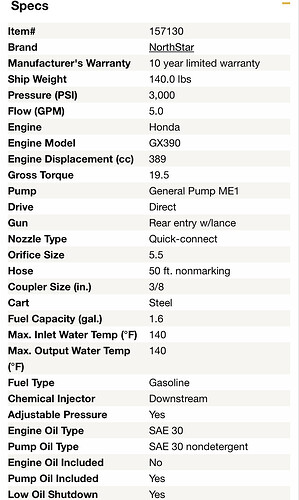 Doug Rucker's Mad Max
5.5GPM/3000 PSI
13 HP Honda GX390 engine
Unloader VRT3-310EZ
Adjustable Pressure Unloader
Low Oil Alert
Pump GP TS2021
Aircraft Grade Aluminum Frame
Dual Handles for Easy Lifting Option
Both are essentially the same price. NorthStar offers free shipping and Rucker charges $350 - maybe more, maybe less. NorthStar also includes 50ft of hose (which I won't use), Spray Gun, and lance. The only thing included with Doug Rucker is a thumbs-up.
Both have are powered by a Honda GX390. NorthStar uses a General Pump ME1 and Rucker uses a Pump GP TS2021.
If I go with the Rucker, is his Suttner ST-2305 gun with the Mosmatic Swivel worth the $100 price tag?