Well, I upgraded. And I decided to go big. lol. At least big for me.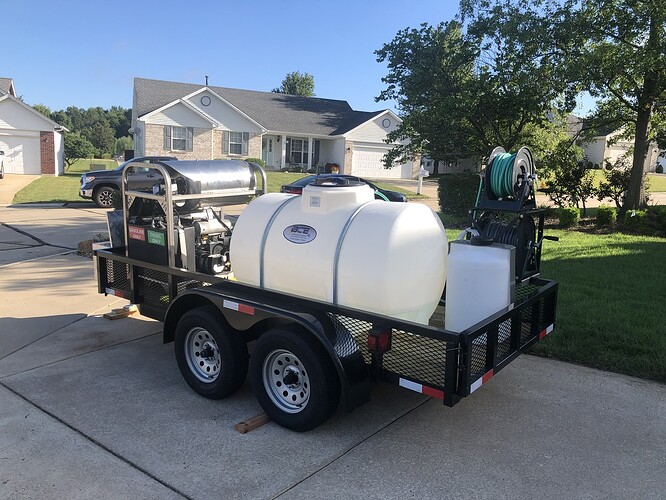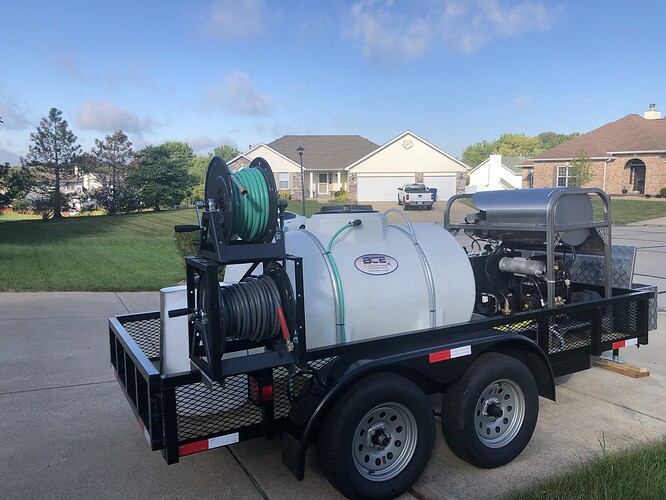 Most of you know I'm part-time so this was a big expenditure for me. I went and bought a package trailer. It was the best route for me.
8 gpm / 3k psi with a burner
I feel this allows me to do just about any type of work I might ever want to do and it really opens up the door for commercial flatwork should I want to pursue it.
I owe a ton of you a bunch of thanks. Y'all know who you are! Thank you!!! And I don't want to turn this into the grammy awards where everyone and their mom gets mentioned. But I do need to mention a few people specifically.
@Hotshot welcomed me to the forum and helped me to feel "at home". If it wasn't for him, I might not have stuck around. Thank you, Sean!
@Racer pointed me in the direction of this trailer set-up. He was gracious enough to correspond with me and point me in the right direction. Thank you, Rick, for all your help and making this forum a great place. You bend over backwards to help people out. I'm blessed and challenged by your example.
@MDA1775 has been my go-to whenever I had a question regarding staining a deck/fence. He's given me a ton of info. And I've gone and searched out many of his past posts. He might not have the title of "Wizard of Wood" but he sure is one! Thanks, Mark, for all the help. My customers' decks/fences look a lot nicer thanks to your input and sage advice!
@marinegrunt has answered tons of my questions. I have a lot of respect for this guy. He knows his stuff. He's another person who makes this forum so great. Thank you, Brian, for continuing to encourage me and help me in many areas including pulling the trigger on getting this new trailer. You are indeed a true friend.