Practice doing driveway and the results are below. I have a few questions and need some help answering/confirming what happened and how to fix. I will post pictures below and list everything I did with my equipment.
What I did:
soaked everything with water including plants
SC with 16 inch 25020 nozzles, have a 4000 psi 4 gpm pressure washer
I then rinsed it all with ball valve
post treated with my x jet …. no proportioner … which is a 1.6:1 ratio ……. so I batch mixed 3 gallons (1.5 SH 10% + 1.5 Water + 3 oz of Arm and Hammer Oxiclean) and was putting out about 3% for my post treat
and just let it sit … didn't rinse it
After pic: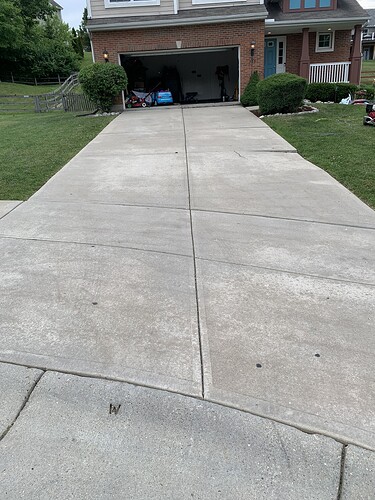 Questions:
Did it streak bc I went too fast? I also feel like 3 gallons of my mix wasn't enough to make the streaks go away . Should I have soaked the post-treat on the driveway aka use more than 3 gallons?
Why is it spotty in some areas? How come it Looks cleaner in some areas than others? What did I do wrong?
Can I fix these two things above? If so, how?
Any thing else I may have missed and need to do better?
Thank you!!!