We just wrapped up week 3 of lights installs with 3 trucks/trailers dedicated to it…we just pack them in box trailers, and keep the trucks indoors so we don't have to winterize though.
Looking good on the install there too

Great install. We started Christmas lights last year. What's the price per foot in your area? Here we are at 7$ CAD for c-9 and closing rate is sooo low i wonder if i should drop the service. Trees are even worse. Some people expect to pay about 200$-500$ to light up a 80 foot tree.,

Nope… Max of 30' high is what we tell people. If I could reach 80', it would run a couple thousand USD.
IDK about area, but our pricing is well above yours in the mid-Atlantic, and looking at our close rate, we may be too low, lol. We just sent out some EDDMs, and haven't even thought about dropping our signs yet, and we may have all the leads we can install already. Return rate from last year's folks has been extremely high, and most of them want to add stuff. Everyone I've talked to says its a record year for the industry already…
I have no problem with pricing for our other services, but for this it seems people have sticker shock 10 times out of 10. I spend so much time preparing quotes for nothing, it's discouraging. Obviously if we had some great pictures of jobs completed, and more advertising budget that would help. Also now is our gutter cleaning season and we are running like crazy all day to finish jobs before winter, so very little time to prepare. Any helpful tips? Also, i saw a video of Jason Gieman saying he charges 30$/ft per height of tree. Does that seem right? Any other methods of estimating lights for trees online?
Yea we're $7/ft minimum for c9 and $850 job minimum. I get sticker shocked at some of our jobs too that job I posted came to $2800. After doing it a couple years now I've realized we have to charge properly or no profits lol

Some trees are 35' around… some are 100' lol. Measure circumference and how many times around your going and figure out a per foot price anything under 20' is pretty easy charge more per foot the higher you go. You can do some tall trees with a good carbon fiber pole but its tough work.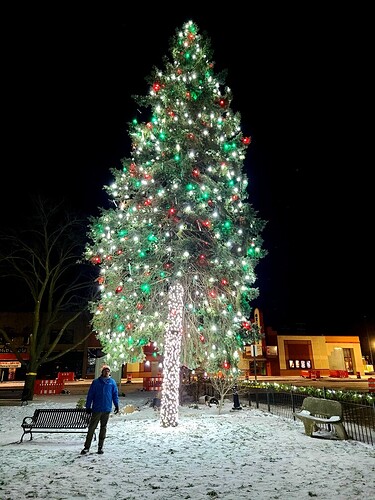 This is a 55' tree done with a pole.
What he said…I have a per foot price for skinny/average/fat trees. I just look at it and figure which it is, and use that rate. I also add a bit if it gets crazy tall. Jason's pricing is probably fine for a fatter tree that's pretty tall, for us. He knows the business very well.
We have a lot of people with sticker shock. A guy the other day was flipping out because I sent him a proposal totaling over $6k. I was giving him a ton of different options is all. He complained a bit about the price tag, then paid his 50% deposit on the whole thing. I thought he'd choose maybe $3-4k of the line items…you just never know what people will do.
It blows my mind that people will spend that much on Christmas lights.
Me too but if they're going to spend the money somewhere anyway might as well bring some holiday cheer and help pay our bills through the winter…
I looked at different poles online, which do you use or recommend?
Same crowd that spit the dummy over a $500 house wash on a $500,000 asset. I always tell folks to charge as much as they can get away with, plenty of money out there.
We use Gardiner poles from Detroit Sponge and Chamois
An extreme high mod 47' with 2 extra sections to go higher- Thats a very expensive pole probably over 2 grand now
We also have 2 35' poles that I like about just as much for the lower stuff and they run about $800
WCR sells the xero line of poles I think they are pretty similar too
Thanks @Infinity

Yeah, was feeling bad that one had gotten hijacked into "winterizing your business"

Sidenote…I'm sick of lights season already…This is getting out of hand. Clients are rushing to get installs now that it's Nov. Sales is rushing me to get them design proposals. Tomorrow will be my 5th straight day in the field, and I only go in the field when I'm bored or want to learn about something, lol (or the occasional freebie…)


Sounds like it's time to charge more

I think I literally said that yesterday

My full-time job is working for a local town and we go big on Christmas displays all over town. It takes our department (about 14 of us) the entire month of November and the first week of December to get the whole town set up. Bucket truck, aerial lift, 28-ft artificial tree, 32-ft artificial tree, garland galore, a ridiculous amount of Christmas lights, over a dozen "normal" sized trees set up inside town hall, and this year we have a display hanging over our new dam. And, then there's the parade, vendors market, movies, carnival, tree lighting ceremony, etc. I think this year they nixed the fake snow machines