So I finally got a suitable Surfactant (I hope) from Swish. It is the "Clean It Vehicle Wash"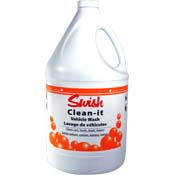 Here is the web link:
I consulted with the people at swish, and this is an alkaline product so it shouldn't wreck my sh.
And it does describe house washing. This better work, I am getting sick of you Americans rolling around in Elemonator like dollar bills in your bed.
I am trying this product tomorrow. If it works, I may be able to fire my border mule.