Welp! I hope they at least treat them selfs to a nice dinner with the money they saved.


How would you go about fixing that eyesore. Ive read about brushing gutter butter or gutter grenade or something along those lines to even it out but would it work?
Yes… Potassium Hydroxide will do it, or even a strong caustic degreaser.
Any idea on a mix ratio or just do some trial and error? Start out weak then add more to find the right mix?
Honestly, why would you even want to know how to fix it? Never use high pressure on vinyl and you'll never get those results. Never "fix" other "contractor's" mistakes either. That's how you get sued.
LA's Totally Awesome works great for oxidation removal.
I understand the no pressure thing but I was just curious if it could be fixed and how is all
Supposedly, it can be fixed but honestly I'd never want to try it. It sounds like a on of work and there aren't really any guarantees that it will turn out like the customer expects. Much easier money to be made.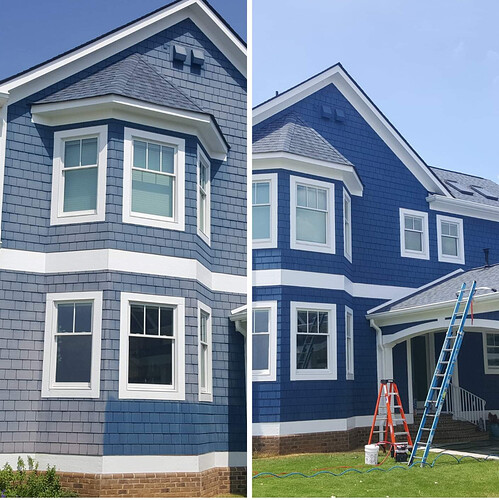 This person used gutter butter but i have a concentrated form of gutter butter. 1 gallon makes 10 gallons of gutter butter and i get it for $8 a gallon.
Doing this will make the said look alot better and take away those "zoro" marks but the oxidation will come back likely the next year but atleast it will come back uniformly in stead of that mess lol
I've downstreamed f13 gutter Grenade from pressure trek and the oxidation just melts off. Just don't let it dry on any windows.
@sgb i cant wait to try this with my BD6. I have just worried the effect on glass or painted aluminium. I need to compare the ingredients of f13 and bd6
Where do you get it for $8 a gallon?
LOLLLLLLLLLLLLLLLLLLLLL.
That house is either photoshopped or they spray painted it.
Same place i buy my bleach


. They do not ship online. Sorry i meant they sell it for $25 a gallon. Ill sell it to you for the same price i get it and you pay shipping




What's the active ingredients in it?