The majority of my business is window cleaning, but due to demand from clients I have branched out into pressure washing (which I really love doing).
Up to now, I have been doing residential for the most part. However, I have a lot of commercial storefronts (shops), and I noticed that they are dirty, signs are full of dust, and the entrances are full of cobwebs, spider crap, nests and bird crap.
I started offering "store washing" at the rate of $100 per unit, plus tax. Including setup, and tear down, takes me half an hour per storefront. I tried to quote $150 and got push back. $100 seems like the magic number. This example is a client in Port Perry called Harrington's.
I did 2 stores at 8am, and was done at 9am. Made $200, and then did my window route in the same area. It was a nice add on. Also, booked 3 more clients on the same route for next week.
Here is my method and some pictures:
Step 1: Dust, Cobweb and Nest removal
Do this BEFORE spraying the storefront. Cobwebs and nests get really sticky when wet, and you don't want to use enough pressure to remove them and risk damaging paint, etc.
Using a telescoping pole, attach this cobweb duster: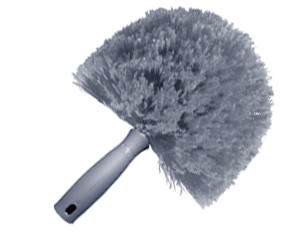 And go over all the affected areas. It works great and goes super fast. Just google "Unger Cobweb Duster"
Any telescoping pole with a threaded tip will work fine.
At this point the storefront should look 100x better already. All cobwebs and nests and sticky bug stuff should be gone.
Step 2: Soap it up!
Down stream 12% SH with your surfactant of choice. This should help break up any stains and organic material such as spider poop and bird crap.

Getting bird poop off of painted surfaces can be difficult without damaging the paint. Don't try to just blast it off. If your ds solution doesn't remove it, use a car wash brush like this:
Give it a bit of a scrub with the solution and then rinse off. Should look like this:
I also like to give 3d Signs, or raised lettering a scrub with that brush.
Keep everything wet do not let your solution dry and now rinse away!
I also wash off their sidewalk so that everything looks nice and clean. All that done in 30 minutes easy.
Depending on the setup, you may need to run your supply hose into the store. If that is the case, bring some big towels and stuff them in the front door. No matter how careful you are, there will be some water that gets in the entrance.
Storefronts are not just for window cleaners!