Hose reel has been used for chem, would anybody use it for pressure washer? Looks like this one…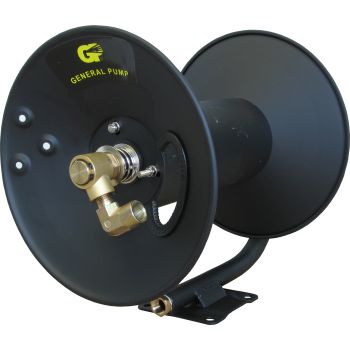 https://www.generalpumponline.com/wp-content/uploads/2017/01/D30002.jpg
Can you be more specific?
Sorry, I have a used hose reel that came with my setup. I want to use it for my pressure washer hose instead but it's been used with a 12v pump for soft washing along with chem. I'm worried about rust.
Are you spending money on that thing? If so, do yourself a favor and don't. I have a General Pump reel and it works great but it is actually a high pressure reel designed for these operating pressures. That reel won't last a month.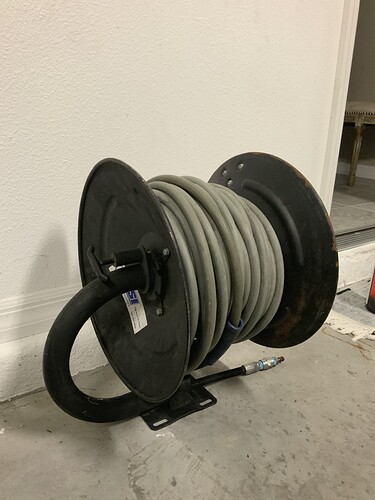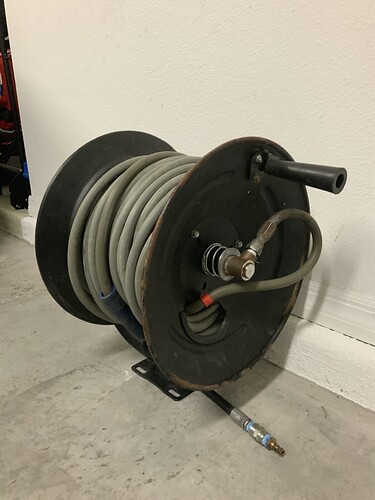 I have this reel that was used with plastic hose for soft washing. I put this pressure hose on it but not sure If it's a good idea after all the chem ran through it
@DisplacedTexan is right they're cheap but if you're gonna use it just use it to hold your hose until you can afford a better one. Don't attach your hose to it.
Straight to the washer then…
There's an idea. Like @Max1 said, you can use it for hose storage but I definitely would not plumb your hose to it or you're bound to have some headaches. Also, it's super small for your pressure hose. I fit 200' on my 150' GP reel but you have to roll it tight. How much does that hold?
Yes. Hose directly to the unloader or to your whip line
Don't know how much it holds, doesn't say either
200ft… I may or may not have 2 of them on my trailer right now

Holy smokes it looks so small in those pictures. How are yours holding up?
Or just buy a rebuild kit for it then you will not have to worry about the rust
They look bigger in person. The lock pin bent the first week I had it… they ended up sending me another and got to keep the original one. I bent it back into place and now I use the other for my 12v set up. Since then they've been holding up good. It's been a handful of months with no issues
Well that's good. Where did you buy them? I got my GP off of Amazon
Some crappy Canadian site lol. $200+ with free shipping. They're actually BE but are literally the exact same as the one in that picture.
Such better deals for reels on your Amazon. Amazon.ca sucks
Do they somehow know that you're ordering from a place in Canada? Can you not just order off of ours and pick it up at your usual spot?
Yea that's definitely an option. I've yet to order any bigger stuff there because she's a bit older and I wouldn't want her to have to move around something heavy. Next time I need to order something bigger I'll just go there the day it gets delivered.