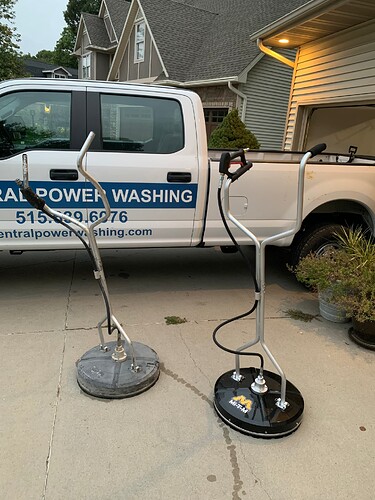 I am not associated with Mi-T-M or Toolbarn. I don't sell anything. The purpose of this post is not for you to visit my website or improve any SEO. I rarely contribute to this forum, but I read here almost every day. It has given me SO MUCH over the years. I never see anyone mention this surface cleaner on the forum, so I figured I'd throw it out there.
I've had this Mi-T-M surface cleaner for three years now. I purchased an additional new one today, so I thought I would share my experiences running this over the last few years.
It's cleaned countless square feet of pavement, and never once let me down. I ran it over with my F-250 one night around 3:00 AM, hence the missing trigger assembly and bent handles. The swivel is original as is everything else except the bar (I bent it after I dropped it off a curb corner while cleaning…also around 3:00 AM)
It's on sale right now at Toolbarn.com with free shipping for $305
It has a 20" two nozzle bar.
It's rated for 4000 PSI and 180 degrees, but I regularly run it at 200 degrees.
It says it's rated for up to 5 GPM, but I wouldn't see why you couldn't run higher. I'm running a 5.5.
I truly beat the heck out of it. It bangs around in the truck bed instead of some fancy holder like I see most people using.
I know most people are pretty attached to a specific brand or style of surface cleaner, but you cant beat the price and the quality is good.
I bought a new one for two reasons. I wanted a dedicated commercial and a dedicated residential cleaner. The new one will be my commercial one. Also, on the old one, the bristles are pretty worn down from use, so the water has a hard time escaping the enclosure, which is slowing the bar rotation and negatively impacting my cleaning. It doesn't matter as much on my smaller residential stuff but it definitely hurts on larger commercial spaces.