Anyone using it?
Any issues with "Pressure Washing" or "Power Washing" being returned in the gls results?
I signed up and am waiting for a background check to pass. Doesn't seem like a horrible deal. They charge $8 per phone call and no contract for it. Will only turn on when I need it
Did you select gutter cleaning as a job type
Nope window cleaning, then sub cat of power washing. Should only get calls for the latter
So it's odd, I can't find one city where "Pressure Washing" or "Power Washing" display a result in the gls pack!?
Just confirmed with Google, there's a bug for the job type "Power/pressure washing"
Will not return your company in the gls pack

Weird. I got on the phone with a rep to try and figure it out, said to select window cleaning and then only select power washing under services offered
Yup, that's correct.
The issue is that job type is presently not included in the gls 3 pack even though you've selected it.
If you enable the gutter cleaning or any other job types you will be found for those job types but presently not for Power/pressure washing.
Huge issue for us

Yikes. Better not signup then. I don't see why they don't have their own category for it in the first place
They'll fix it, to much potential revenue not to. Plus you'll be ready for when it is fixed.
Yeah let me know if u see it's fixed
Can do

Following

Not sure if this is what you're talking about but my wife just set us up for an ad campaign with Google… first time ever trying this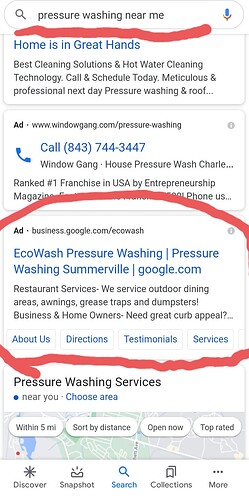 Nice, I've never used that.
It's pay per lead as opposed to pay per click.
Sounds way better than pay per click🙂 So far alot of clicks and only a few calls, but the wifes having fun being the advertising and marketing girl lol…gives her something to do
So is this supposed to be cheaper than each click ? Sorry for the noob question just getting into looking at marketing… thanks
It depends on a lot of factors. The quality of the leads is what is the most important to us.