Looks good man! How much do you reckon it weighs?
Looks great which proportioner is that? It looks like the stealth is the only one that comes in a box. How long have you been using it? I want to get a proportioner soon and I'm not sure which to get.
I'm estimating around 4500lbs empty and 7000lbs full of water. I'm going to go by our local co-OP this week and weigh it. I generally don't go over a few miles full. A guy I go to church with owns a trailer dealership so this winter we may end up putting 5200 pound axles under it if needed. the proportioner came from midwest washing equipment. they're very responsive with return phone calls. Everything was pretty much plug and play. @Grizz pvc is a great thing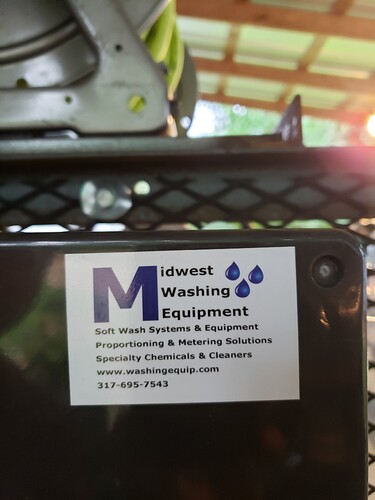 Looks great Kenny! I like the changes since the last time I saw it. Good work buddy!
Wow nice setup! Thanks for sharing
Thanks. I love expanded metal. you can do so much with it
Great job. Go make some $$$$.
That's awesome brother. Sweet rig
Hey man great build! How well does that hydrotek recovery unit been working for you? Is it the 30 or the 50? I bought the 30 this year and the Antv5 surface cleaner leaves too much water on the ground with it. I'm using my 8gpm machine with it but the nozzles are at the factory 5.4 (total) and despite hydrotek telling me that the rest of the water will bypass to buffer I am going to plan b. My machine is 2 gun capable so I'm going to setup hose number 2 with a ball valve and when I run the recovery surface cleaner I'm going to put two 2502's on it and throw the second output hose back into the buffer tank. Will only get 4gpm to the surface cleaner but I'm hoping that since it will be so little the vac can keep up 100%.