Does anyone else fly a drone? Here's some aerial videos I took with mine

Share if you have some too!
Lovely

I have the Mavic Air 4K. Never thought to do a pressure cleaning video

I used to, but it was for the Army and then as a contractor after I retired. Much bigger than these here. The last two I flew, Aerosonde, would fly 15 hours and, Arcturus Jump 20, fly 12 hours at up to 15k feet MSL. Got some amazing war porn from them, lots of ISIS guys meeting their maker.
Wow. That's a drone. Ha ha



After reading through the reviews i think it might actually be worth the money. Best drone ever!
https://www.adorama.com/xfdrx12u11rf.html?gclid=CjwKCAjwx_boBRA9EiwA4kIELjXe-UzE52rpddTRr92J5vQZxPydRKTH12jkTpj94l8MCR0kWc__6hoCyxkQAvD_BwE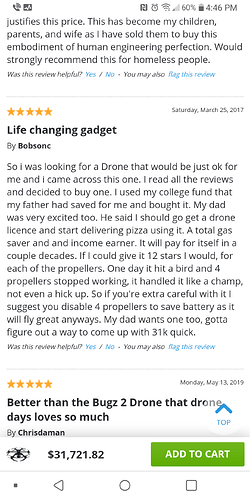 What is everyone using to edit video? I have a bunch of drone footage on jobs that I'd like to make ads with. Mostly for google ads. I also want to update my website with some videos. I'm thinking about going the fiverr route with the videos. Any suggestions on fiverr editors?
That's only like 100 housewashes

@Harold if you use an Apple device - iMovie has just had a recent update and it's fantastic and super-easy to produce movies in minutes.
If you're technically minded, the best software is LumaFusion app.
For photos, get the free app Adobe Lightroom and totally transform your pics.
Here are some of mine:
https://www.instagram.com/invites/contact/?i=4431wa1gip5t&utm_content=45ftslw
If you have Instagram, just look up zerotoheroman

It's worth that for sure. One guy flew it into a f5 tornado and another pulled his boat to shore with it. Id say its a worthy investment. Honestly it has the BEST reviews ive ever seen on any item.
Movie maker on my iPad or windows movie maker on the laptop.
Cool shots man, I have a spark which I usually forget to take anywhere.
Got a few vids that I need to edit tho cheers for the tip.

We are going to watch this tonight. Anyone else watched it?