You need to be eating more vegetables lol
Be careful @Ikii. Your pork butt is hooked to the grid bubby.and you gotta be living in PA
Eww rolling rock

I thought the same thing lol definitely not my choice of beer.
Next week.
Testing the ceramic on the grill.
Dont like propane, but they dont make charcoal grills like they used to.
Asparagus wrapped in bacon, marinated on balsamic dressing and sesame seeds next weekend.
And a rotisserie chicken … maybe
Good deal…I always use lump charcoal (mixed hardwoods) myself
You guys would probably kick me off the forum if I showed y'all what I currently grill on. I have a fully welded grill that I've had for years but had to leave it in Oklahoma along with my trailer smoker when I moved to Arkansas. Just too big and heavy for me to manhandle alone and wouldn't dare ask the wife to help me. I have a few buddies up here now that owe me favors so I will probably bring it up next time I'm down in OK. This is what I use now: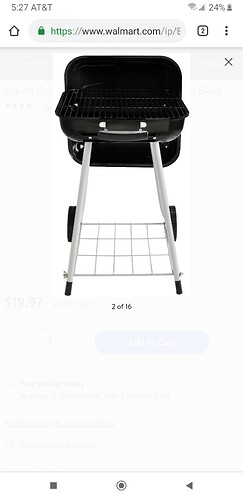 Lol thanks man. I've cranked out a TON of meat on that thing since I've had it but I really miss my big grill. So much easier to control the heat and I can fit way more at once.
Rolling rock is BEE'S KNEES. …
Latrobe, Pennsylvania knows how to make a proper lager
I have a cast iron charcoal grill and i love it. I also am a fan of lump charcoal @dperez.
My wife drinks yuengling lagers ill stick to my bud light.
Dont even wanna talk about bees. Did another tan hardi board today with no issues other than another hornets nest that i made so mad they stung me 2 twice once soaping and once rinsing.
Vurry nice. Makes me want to grill now.
Natural lump charcoal.
Bot that pressed crap that smells like lighter fluid.
It's a saying…means excellent or highly admired.
Ty.
A colloquial expression