Hey guys how's it going!
Here's my next project. A deck with composite floors and steps, metal spindles and all other vrtical surfaces are made of wood.
While Composite part of this project is relatively easy (~2% SH directly applied and gently rinsed), it is the wood that concerns me.
Wood is currently stained with oil based semi transparent, and it's fading. I will strip the old stain with F18 and neutralize with F8. That's no problem there.
But the client wants me to seal or stain the wood. And this is where I am lost.
I mean, I've stained twenty or so decks already - mask the siding, apply stain, remove masking tape/paper, done. Not too hard to do. But in this case I'm looking at a huge amount of masking to do! Every step board, every single metal spindle where it connects to both top and bottom rails! So my question is:
Is there an easier way to do this?
I've always used semi-transparent stains. But what about a clear seal? Is it clear clear and absolutely transparent? If I apply it with a minimum overspray getting on metal and trex surfaces, will that be acceptable? Or is said clear seal noticeable and perhaps damaging (although I don't see how) to surfaces her than wood?
How would you approach the dilemma of protecting the wooden parts of this deck (picture attached)?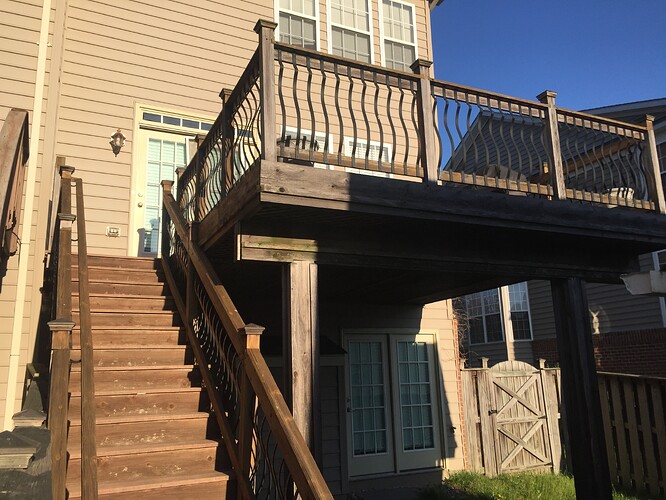 Thank you friends!