Hi everyone! I've been looking for a pressure washing forum, looks like I found one finally. My names Jay & I run a power washing business up north. So yesterday I had to clean up a concrete patio (pool area) for a real estate agent selling the home, the pool area looked like it hadn't been cleaned in 3+ years (easily). There was a huge difference between before and after but I wasn't impressed with what I saw under the dirt and grime.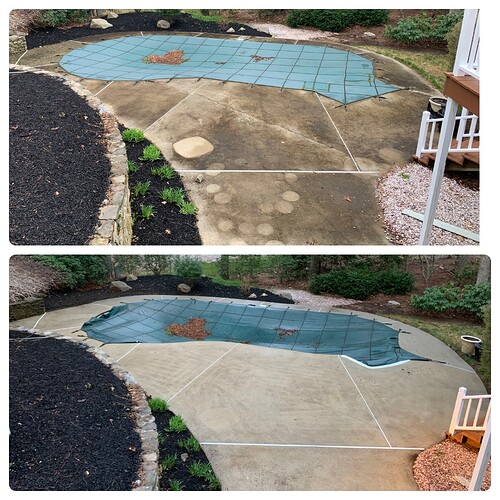 It surely does look like the homeowner in years past tried to power wash or hired someone to power wash and they damaged (?) the concrete. I use a surface cleaner, generally won't bother to use my spray wand unless it's a small area so I'd never leave a streak. Was not impressed at all once I un-covered this because I put in probably 3 1/2 - 4 hours into cleaning it. Now sometimes you'll clean a surface and you'll see what it actually looks like & that's understandable but I was baffled at how bad someone botched this, when ever they did.
I'm not stuck with this job but for future reference, what's your approach if you encountered this? Obviously this is a bit more involved since I already used a solution & cleaned the surface. It looks like someone sprayed too closely into the concrete with a high pressure at one point in time.
Crazy day!