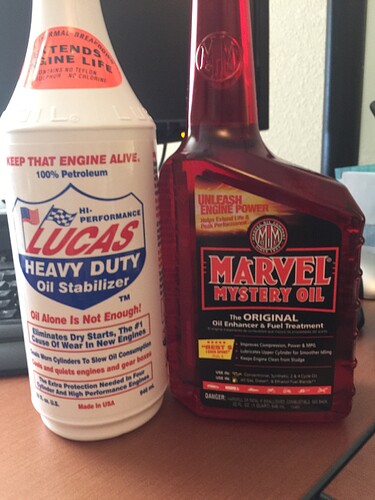 I know this has probably been debated a million times on other forums. Hot rods, boating, ATVs, old tractors, motorcycles, heavy equipment, etc. So why not ask about it here?
What are your favorite additives? Do you use products like STP oil treatment, Slick 50, Lucas oil stabilizer, SeaFoam gas treatment, Lucas upper cylinder lubricant, Marvel Mystery Oil, or something else? Or are you a purist who never adds anything to your gas, your oil, or any other fluids?
Personally, I use Lucas Oil Stabilizer in my older vehicles and equipment, and I feel it does a great job of cutting down on oil consumption and reducing wear. I put Lucas transmission stabilizer in an old Jeep I had and never had another problem with the auto trans. Before the Lucas, it often wouldn't shift into reverse gear when cold. I also use a little Marvel Mystery Oil in my pressure washer gas and my motorcycle. I don't know for sure any of this really helps but I do seem to get really long life out of every engine I own.
Your thoughts?