Having a little trouble nailing this down, what switch are you all using on your 12v softwash systems?
IPX4 rated 2 pole switch (on/off). Don't buy cheap Chinese. A quality one is cheap already.
Cheap Chinese…but rarely if ever have any issues with them. Granted ours are inside a box with the 12v pump on our trucks though…
is that what you use for your on/off switch?
I keep a fused distribution block and relay inside a small IP rated box. Then you can use any 12v automotive style switch you want as long as it's outdoor rated. It's never good practice to run power through the switch, no matter what amp rating it has. That's what relays are for, plus they are cheap and easy to change out if they do fail. I like the simple LED lit toggle switches. I've used those on many different application without issue. Yes, it's more money to buy a box, fuse block, relay and switch, but it's the right way to do it. I know some will say it's overkill, but I have a large fuse right off the battery post, then a smaller fuse rated just above the max amp draw of the pump right after the relay.
That is our on/off switch, yes. Inside an 18x18x24 aluminum box with the 6gpm Flojet and the 3-way valve. Use old/spares on old pumps we've refurbished (but don't want to risk in the field) to pump surfactant/gutter butter/bleach neutralizer too…they hold up pretty well.
I may have to get someone to build my 12v system, all these switches and such are above my pay grade. It would be super nice to go AODD but no room on the trailer.
I like small and compact. This is the box that powers my 12v system. Yes my system is different, but powering pumps is all the same concept. You're only powering one pump, so you don't need a distribution block like I have, but a relay is always a good idea. Like I said before, a second fuse after the relay rated just above your pumps rating is a good idea too. If something fails, it will help trouble shoot. Don't forget a fuse right off the battery. All my wires come out the bottom with water tight cord grips. I have a very small, automotive LED switch on the side of the box. They are cheap but hold up great. I carry a spare incase it does fail, but it's never happened.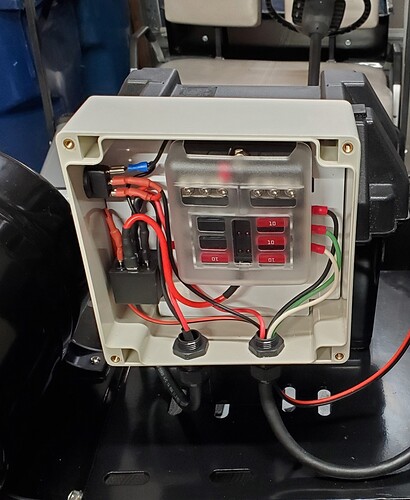 Is the automative led weather proof and do you have a link? Is the led lit when the unit is on?
Just search 12v LED rocker switch. Yes, the LED is on when the switch is in. They are cheap, like $1 each. With proper fusing and relays, you don't need high dollar switches
I guess my next question is what happens if a fitting comes loose or the hose pops and sprays SH everywhere? Is there some sort of automatic safety switch that shuts off the pump?
Rare, but sometimes, you may have a fitting, especially a QC like a banjo, that may develop a leak. reason I always enclose in some type of box.
As far as electrical goes, if I can do it, you can. Simple switch is all you need, it's a little 12v pump, not a spaceship.
It may be possible by monitoring the pressure, but being able to tell the difference between a leak and normal use while spraying would be difficult. If your unsure about your electrical skills with just powering it, I wouldn't worry about leak detection.