Lol. Wait till late November. Sell,sell sell
You could get a set of stacked summit reels for 500 bucks or go reels for 209 each Steal eagle for around the same. It would be worth the investment if you can swing it
To be honest I just rolled my hose till I could afford a steel eagle reel. Yes it was a pain in the ■■■ but we had to start somewhere no shame in putting the work in
I'd definitely would have purchased a better reel if I had the coin. But in the beginning it was not necessary to go wash with reels,that was a luxury. We had a Peterbuilt rim mounted on the back of my ibc tote and the wife hand wound all 200 ' ,things have changed since then. Hannay and cox reels now…
Yea i could care less about being laughed at lol. We all gotta start somewhere and i know i wont be here forever. But my reel budget is around 300. do you guys think the cox reel is a good buy? The garden hose is easy to roll up by hand. but the high pressure monster hose i have is a pain
Man I wish I had thought about a truck rim I learned to coil them up put velcro strap and kept moving. I love my hannay reels but I put summit reels on new trailer and have been happy with them so far
Your really only a few house washes away from getting a much better set I would save my money and invest it wisely in my business. I say a few because I have no idea what you charge or are washing
I may be able to find you some used ones if you would be willing to drive to Fredericksburg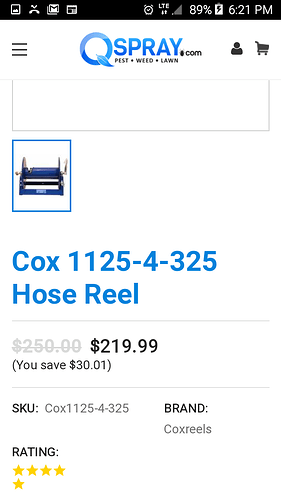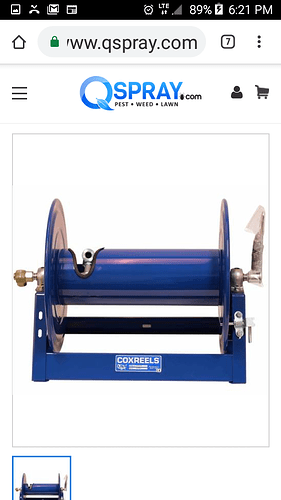 I'd go that route if your wanting cox. Your gonna need 200' or more of hose to wash house's. Plus your reel is all open inside and I don't see a 45 degree hook up,no lock,there is a reason it's only $147
And do you guys have any other ideas for starter garden hose reels?
You can get Hannay reels through Sprayer Depot for $260 with free shipping. I've never used Cox but I would assume it's worth it for $40 more.
That one I linked above is for high pressure hose. You'll want a larger swivel for supply. I guess that's why @Hotshot linked the cox reel above for supply. I agree with @Firefighter4hire . Hold off and do another house wash or two before buying reels and get decent ones. It'll save you money and grief in the long run.
I would look into a small buffer tank too so you can let off the gun without having to worry about pump overheating. You wouldn't need a big tank for that.
I am in the same situation and looking to do the same thing right now on my Dodge Dakota. How did you end up mounting the reels? And did you end up putting a ladder rack?
How does the little giant ladder work out for you?? I don't have a ladder rack right now either.
I actually ended up finding a good deal on used reels from facebook marketplace. I got 2 hannay reels, a 50 gal mix tank, and a cox reel for 300 bucks. At first i just loaded them in the bed of my pickup and put the tailgate down to use them. Then i got a good deal on a 12 foot trailer that already had a ladder rack on it. I then mounted the reals to the side of the trailer with a 2x10 piece of wood. And its doing the job for now
As far as the little giant i dont need the ladders as much as i used to for house washing because i got better Tips and a system with more water flow which gives me higher reach. If i ever use ladders its for roof washing. And i have a 32 foot ladder now with stabilizers. I keep the little giant on the truck though incase i dont feel like moving the 32 footer.
Oh so you made the trailer work out, cool! I'm gonna stick to the truck. Ya the 32 footer I find is really heavy for me to lift alone. Im starting with a 4gpm 4000psi pressure washer, will be getting a j-rod soon, do you recommend the little giant if I need to reach peaks and upto 4 story with my set up? Otherwise I'll have to figure something out with the ladder rack.
Yes the little giant does come in handy sometimes when you need to hit really high peaks when using only 4 gpm machine so i always keep it handy just incase. And in my area sometimes buildings are shaped funny so you need a ladder to get above a small roof to hit a hidden section of siding.