OMG tell the dog to get inside the sun already burned the fur of the cat lol…jk
I can't help but feel sorry for that cat. And I am a dog person!?

Do you have to rub sunscreen on your cat?
Maybe they have a sunbrella for it? There's got to be a story behind them getting it!
Your supposed to if they are outside. She doesn't go out but she gets a good tan going.
Jk i seen that guy at the Columbia SC zoo yesterday.
One more time…animals don't have opposable thumbs, therefor, THEY DON'T GET TO WEAR CLOTHES!!!
DOGS RULE!
What about a hermit crab. It wears clothes kind of​:joy:


@Grizz…I'm sure there's a great joke that I could use but I'm not gonna…I'll keep it clean lol!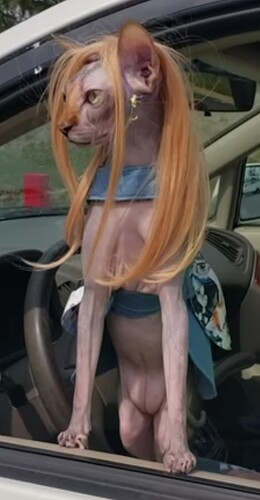 lol I found your cat a girlfriend!
Well she's a girl. Looks like a heavy metal singer lol
Idk what shelters have Sphinx but they must not last long! Lol
Whats yalls prices for single wides and double wide trailers?
They are so quick and easy im thinking about charging $120 for single wide and $150 for double wides.
I just gave a lady a estimate on her 2100 sq foot double wide and feel like i should call her back and tell her $150. I told her $210.
Ill literally be there less than a hour.
Sorry meant to post that on a different thread