Why would he need a ladder for 15'?!

Hey, you're from my former neck of the woods! Grew up in Galveston. Moved away when I enlisted in the Army, and never moved back.
I'm pretty sure I posted pics of multiple clowns in my area that I guess you'd call "competitors".
I just don't really care what my competitors are doing. Even the good ones. (I think there's only 4 good ones)
Anyway… you guys are gonna love this:
Over the last two days I've received 4 fake, positive reviews. I responded with this to one with a "competitor" named in it. Check out this ding dong.
I even called the guy this morning to let them know one of his customers put a review on my page by accident because I had no clue they were fake. He told me he operates in Las Vegas, Florida, and a few other states and hires someone to chase reviews and has a team of developers that handles his websites. Cool.
Then I got another fake review with a generic picture of a guy and a woman's name. I put 2 and 2 together, called my digital marketing lady (@SchertzServicesLLC you're paying wayyyy too much for yours in your market homie), and she got on the phone with google.
Turns out this dufus at Power Wash KC, who is second in line with reviews behind me, has been paying someone to leave fake reviews.

There are verbatim duplicates, generic pictures, and Kansas City misspelled the exact same way galore. My digital marketing lady and are in tears laughing, reading these reviews and seeing what he's doing. My face hurts it made me laugh so much.
Oh and a couple of the reviews just end with "good" hahahahaha
Double oh! One of the reviews makes it sound like he's operating a hotel and another like he's a pool guy.



So I took the bait and checked this guy out, I would say about 15 for sure maybe 20 of his 37 reviews seem fake, Truly a class act. As for the others it seems like there great reviews.
I think he paid a kindegarter to write the ads. I love Matthew D. Hatten's review! "There is spacious a lawn beside my house".
Hahahahaha I missed that one!
There's a flip side to google reviews as well. Apparently there are companies that wash negative reviews away. I just found out about this the other day.
Kana city. Maybe that's the same type of guy that calls it missuruh.
He's going to add 10-20 years to my asphalt shingle roof?!
And for the price of $179.99! Heck, after deducting expenses for sh and Cling-on he'll make a whopping $0.29 an hour and even loose money on some larger roofs!
@Sasquatch, adds 20 years because you'll have to get a brand new roof after he's finished 40 tipping those shingles, lol.
I doubt he is using bleach or soap. More like pressure.
Love the no estimates part too. That must save some time. Lol
Good point… You mean like this guy? He's some guy local to me. There's another picture of him where he's 2" away from perforated soffit blasting away and another where he's doing the same on siding.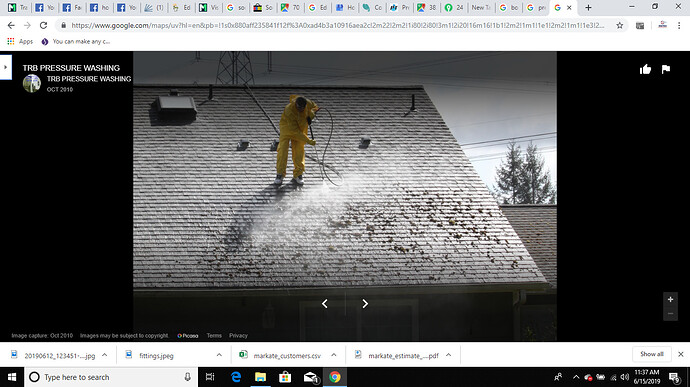 I guess so! If he advertised it, I'm certain he can do it! Lol
Wow! Why is he wearing all that crap and he's on the roof? Is he expecting rain? Hahaha
That guy just removed 10-15 yrs of life from that roof and im not talking about the moss either.
Here are two more from the same guy. I wasn't going to but couldn't resist.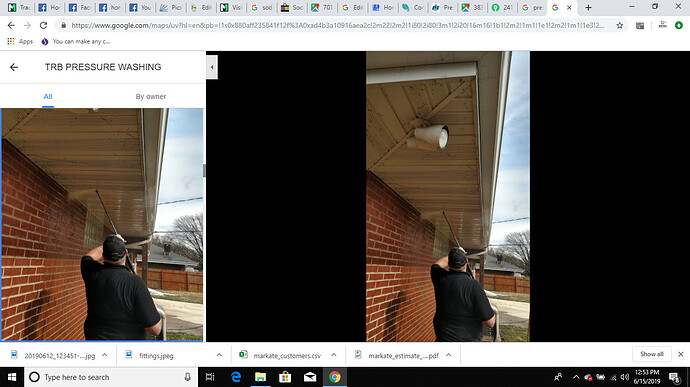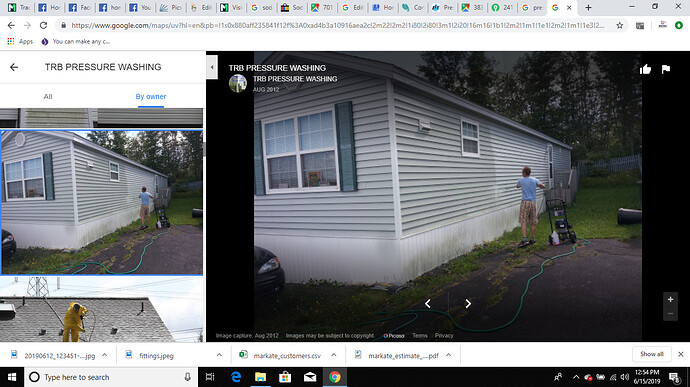 Some of his photos were added 9 years ago but his only review is from someone last year named Rayna Burgess. In one of his pictures he has written "ask for Todd". I'm pretty sure his wife left the one and only review since his company is named "TRB Pressure Washing".