Hello all. I am new to the forum and have mostly been lurking and reading before setting up account.
I HAVE searched for this specific thing but could not find and want to get opinions.
I have an 8GPM 3500 psi machine that DSs at 15-1. A few pump sprayers.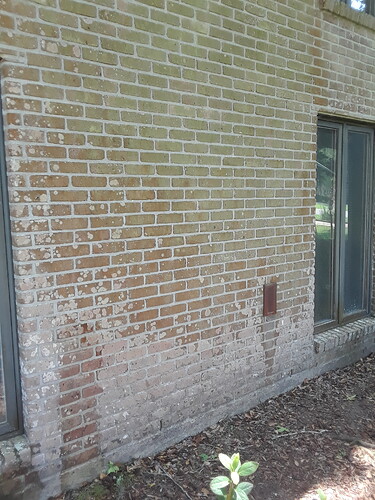 I have seen this splotchy white or light colored growth on plenty of brick but it is always only about 1 or 2 feet high at most and usually hidden behind landscape and whatnot. I typically treatwith a HW mix and use minimal pressure to wash this away but it usually leaves a "shadow". Because it is not very noticiable usually and no customers have specifically requested that be removed, I leave it at that.
From the photo here you can see this is a different animal entirely and this stuff is growing all up all sides of this home. What is THE WAY to remove this completely, and what are my options with the set up I have?
I treated with a 2% mix and left it to return in a day or two to see what has happened. I am not confident at all. Have booked them for a "basic housewash" with no promises of what the brick will look like but all other vinyl and soffits are green so they will be happy when all that cleans up.
If I don't have the set-up maybe I'll throw this one to @Harold, he is in my neck of the woods.