Hey everyone. Been lurking on these pages for around 6 months. Finally signed up for an account yesterday/day before. Name is George and I was born and raised in Omaha, NE. Joined the Army at 17 years old and retired after 21 years. Flew unmanned airplanes "drones" and continued doing this after retirement. Spent an additional 2.5 years 3 miles from the front line in the fight against ISIS. Decided it was time to stop playing Army and get a real job. Worked in the parts department at Bobcat in Omaha. Met a lot of good hard working people there.
A family friend has a side business of cleaning trailers and trucks at a meat processing plant. I have gone out there to help him on Saturdays when he has needed help and I enjoyed the hell out of it. Told him I was thinking of starting a business and would love to buy his account from him when he does finally retire. He only works Saturday and Sundays, cleans around 30 trailers (mainly just getting the meat off the sides and any other particles that may come flying off coming down the road) and 10 or so trucks at one plant (not sure what he does on Sundays but it's less as he never needs help at that location). I believe he said he was charging around 30 bucks or so per trailer, once again it's not a fleet washing business and the owners do not care if they are all shiny when done. I know when I take over the account I'd like to do a little better job than he does and still keep the price point at/around $30-35. If I can keep this client happy there are a couple of other potential clients at the plant that could use the cleaning as well that I'd like to scoop up. The friend isn't too interested in gaining any other clients as he does this to supplement retirement.
So to prepare for the inevitable retirement of the family friend, I got myself a used Landa power washer PGHW series running 4.8GPM at 3500psi (Vanguard motor and don't beat me up if my numbers are off ;)) and had it mounted on a trailer. The unit had 1500 hours on it but was completely went over by a Landa dealer and a new upgraded pump was replaced on the machine.
SO…Getting to why I am not doing the power washing business at this moment and a good teaching tool for new people getting into the business:
I was doing a side job every other weekend cleaning a Bobcat skid steer and a couple of large Doosan front end loaders. These machines were dirty:
Dirty Machines:

Clean(ish) Machines and dirty individuals: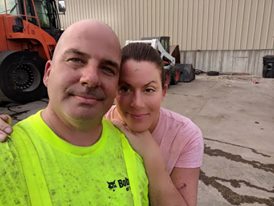 They were used in a warehouse type building where they were moving trash into open trailers to be hauled to a dump. Could not use chemicals as the owner of the facility (not the guy I was working for) would not allow the use of any type of chemical. To make things worst, I get to the job site and figured I'd at least have hot water to help me. Nope! Belt broke within 10 minutes of using it and I was unable to get one for the job.
Here is where I my warning comes into play. I had never done anything like this before and as a new business owner I was pretty lost. I contacted the owner of the company with the equipment (got the contact information from my work at Bobcat) and asked if he would be interested in a cleaning, which I knew he was required by his contract to have them cleaned weekly. Ended up he decided on every other week, his contract his problems was what I though and was happy to start my adventure. Asked him to give me 2 weeks to start, as I didn't have the equipment just yet but was in the process of locking everything down with the Landa dealer. I started 2 weeks later and during that time I was working on getting insurance for the business. This is when I started diving deeper into the forums to see what people were using for insurance. I really couldn't find any great information, but was only looking half-hazardly because I was also getting a bid thru USAA so I was just going to go thru them. Well, they decided they didn't want to get into the liability insurance with a power washing company as they don't have any experience in insuring such a business. Fast forward a couple of weeks (2 cleanings completed and on my way for the 3rd cleaning) the owner calls me up and asks for me not to come as they had some big wigs heading out that way. I was good with that and was just going to do it the following week. That came and went as well (as well as him not paying even after hitting him up a couple of times). Found out that I had bent some fins on the radiator (by some I mean 50% on one front end loader and 70% on the other). I went out on a Sunday and spent close to 8 hours with tweezers straightening the fins with a buddy (certified Doosan mechanic). Got most of it done but the guy was still not satisfied as the transmission was overheating. Tried to explain to him that the radiator had nothing to do with the transmission (as did the mechanic) but he wasn't having any of it. So I bought 2 new radiators for the equipment ($650 a piece) and we were going to do it on the weekend and I was just going to give my buddy a grand for his problems. Still never got paid and decided I needed to cut my losses and move forward.
So for the new guys out there know when to cut your losses. Have insurance, let me be the example of what not to do.
So here I am… decided I wanted to be debt free and take this adventure on 100% as a full time job, not just part time work. I went back to deploying, currently in Syria and once I am debt free and equipment is paid off I am jumping two feet deep into the business. So starting next year around this time I will have the capital to properly advertise and run my business without having to do it as a side job until I can get it built.
I know that was a lot to read, and if you made it this far give yourself a pat on the back for reading the prologue to my business. There will be many chapters to come over the years. I really want to get into commercial over residential (fast food drive thru's and sidewalks mainly). If there are any tips to maintain the course and become as successful as some of you please pass them on. Not asking for trade secrets, just mindsets of how you have become successful and stayed successful. I'll learn these trade secrets thru trial and error like with those Doosan's.