Hi everyone, first time poster long time creeper here. I'm just starting off in the industry and waiting for things to thaw out up here in Canada before the busy season. I do have an opportunity on Monday which I'm super excited for but wanted to ask you all just to make sure I get it right and I'm not hit with a lawsuit day 1.
I have a building (pictures attached) that I was going to softwash with my xjet.
I've learned a lot from everyone here so I'm able to figure out my predilution for the xjet and all that but wanted to post a quick picture and walkthrough. Please correct me if I'm wrong in any step.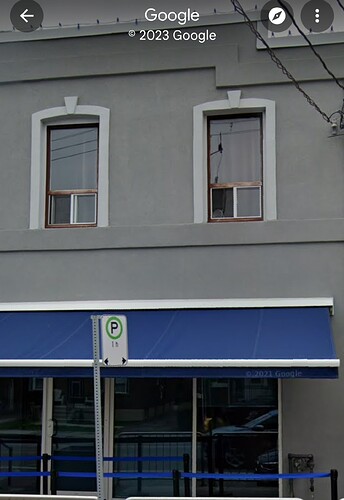 From all my research I've found that both stucco and awnings should be okay with about a 3% SH mix? As per @squidskc So just prewet everything to knock off any loose stuff then spray it all down with SH from the xjet. About a 5-7 min dwell time all around since we're at about 5 degrees (40 F°). Make sure to agitate the awnings even though they seem pretty clean. And then rinse off. Work in chunks so it doesn't dry anywhere.
I'm also going to surface clean the sidewalk which is concrete with again a 3% prewash mix.
Does this seem about right or am I oversimplfying by using 3% on the whole job? The mixing up and down on the fly freaks me out a little still. Any suggestions (I will test spot a few places to make sure we are okay). In addition are the windows okay with me getting 3% on them? What precautions should I take otherwise?
Any other wisdom would be most greatly appreciated!!!
And thanks to everyone that I've learned from. There are too many of you to thank!
-Tim