You just need to quit washing and open a restaurant. You're killing me with all these food pics.
I thought you was coming by to visit rick. Hurry up and bring your grill with your. Heck ill even try a rolling rock.
Yeah was planning but work got in the way.
Whats up top on warming rack?
I think those are Zucchini Boats. My wife will make them once in a while. Its a Zucchini with the seeds scooped out and then filled with whatever you want.
Are you sure this isn't pinterest lol
Zuccinni… boats.
Filled with groundbeef, raisins, egg, seasonung, garlic, onions, topped with cheese and parmesan cheese.
And chicken gizzards on the fry pan
Mashrooms and onions in the foil.
Man that's mouthwatering.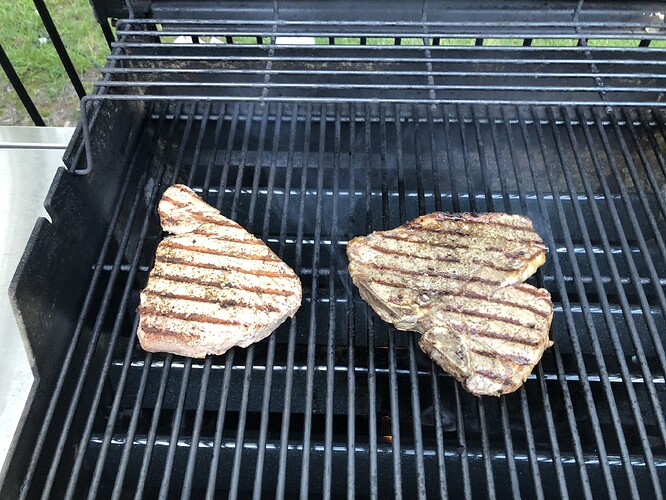 Harris Teeter had pretty good sale today.
I went in for things not meat… came out with 2 pork loins, tuna, porterhouse, and chicken wings.
Heck i just bought a whole ribeye for $37 it was 2.99 a pound. I love it when the wife finds deals like this lol. Im going to lay off pork for a good while. Im getti to where i feel bad after eating it. Im not sure why.
I loves me some mashrooms.
That's ridiculously cheap for Ribeye. Our small local IGA will have nice cuts of Filet for like $7.99 a pound every now and then. That's cheap too. The only problem is I'd much rather have a Ribeye. The wife gets the filet.
I buy ribeye at 5 a pound.
But got to buy 20lb to 30lb at a time. And not cut
Same way at my house. If we're cooking at home it's always ribeyes. If we go out, I get the ribeye and she gets the filet. Really sucks when you go to a place and the filet is better than the ribeye. We make note of those places and don't ever go back. I love the area we live in but I'm not going to lie–they don't know $#!+ about good food around here. I should open up a restaurant. I'd put all these suckers out of business and I'm not even the best cook in my family!