You need to start letting us know what is exactly on that grill when posting these teaser posts lol. Or you can start a thread called "cooking with @Ikii" and show us all your ways of the BBQ

Chicken legs with lemon pepper, brats, and beef short ribs? Then again, you usually use seasoning I've never heard of.
Looks great!
Nailed it… chicken wings,lemon, rosemarry, oregano, garlic and onion… plus fresh grounded gingerw.
My kids seasoned them. He makes the.manu for the campouts
Plus … not int pic
Grilled pineapple, quesadillas, mushrooms with onions, garlic and butter
Kids had cheerwine
Darn @Ikii, I was happily doing maintenance and then saw your post… Now I'm hungry… Thanks very much

That is a great idea man !!
I actually really look forward to every Sunday to see what Chef @Ikii has ahh grilling. We work our tail off Friday afternoon through Monday morning to put food on the tables,so gas station corn dogs and 48 hr rolling hot dogs with 4 day relish and squeezy onions from a packet is our delicacy. I actually show my helper Dudes IcK's pics and they to enjoy it as well… Keep it up Ikii !!
@Innocentbystander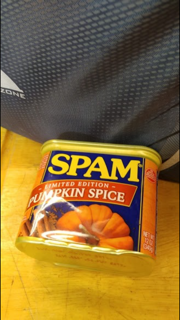 now you can have spam for thanksgiving
That's pretty awful looking stuff you got there
So if you put spam instead of pepperoni on a pizza, would it then be good?
You should try alfredo sauce instead. It's pretty dang good and I'm not huge on pizza
Yall need to just pack it up , He ain't gonna eat it if it remotely resembles a pizza. lol
I've had BBQ sauce cheese pizza and it was pretty good. I think it had cheddar and mozzarella cheese on it.

It's unfortunate he hasn't been able to try good pizza before…
Yeah I think the local Italian joint called Domeeno's does a bbq chicken pizza and its pretty good after a night of drinking. Never had it in the daytime lol
Hes a finicky fella, that's for sure. But to each there own.
That's where it was from

and I don't think it was day time lol