FYI for anyone that has used their products before: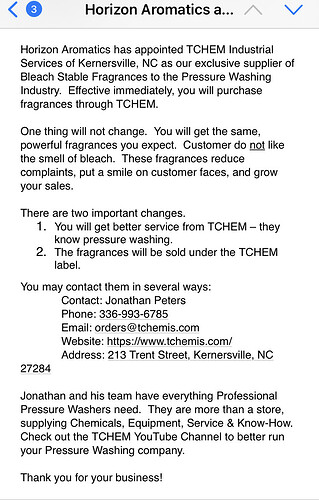 "Horizon Aromatics appoints TCHEM to support Pressure Washers
Horizon Aromatics has appointed TCHEM Industrial Services of Kernersville, NC as our exclusive supplier of Bleach Stable Fragrances to the Pressure Washing Industry. Effective immediately, you will purchase fragrances through TCHEM.
One thing will not change. You will get the same, powerful fragrances you expect. Customer do not like the smell of bleach. These fragrances reduce complaints, put a smile on customer faces, and grow your sales.
There are two important changes.
You will get better service from TCHEM – they know pressure washing.
The fragrances will be sold under the TCHEM label.
You may contact them in several ways:
Contact: Jonathan Peters
Phone: 336-993-6785
Email: orders@tchemis.com
Website: https://www.tchemis.com/
Address: 213 Trent Street, Kernersville, NC 27284
Jonathan and his team have everything Professional Pressure Washers need. They are more than a store, supplying Chemicals, Equipment, Service & Know-How. Check out the TCHEM YouTube Channel to better run your Pressure Washing company.
Thank you for your business!
To your success,
Anne Killeen
Horizon Aromatics, Inc.
Grow sales by engaging customer senses with fragrance.
(302) 273-3605 office
(302) 513-1037 cell phone"