You want to post some pictures of the fittings and gun? The hose and hose end of gun should be 3/8 NPT. The Lance and lance end of gun should be 1/4 NPT.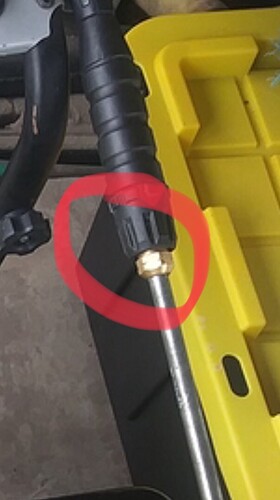 Put that lance in a vice and remove the brass adapter then you can attach the lance directly to your Suttner. If your Eagle Wash came with a gun then it should have a 3/8" female QC out of the box and you'll need a 3/8" male QC on the outlet end of your hose. If it didn't come with a gun then you'll need to modify ala
@Innocentbystander
to plug your Suttner directly to the SC. Not sure if those QCs on your hose are removable but I'd upgrade that hose ASAP. You'll need more than 50' of quality hose if you're serious about PW.
Yes, the hose will fail quickly and is heavy as hell but it's a start.
@Sasquatch I don't have those fittings with me currently, I will post the pics when I can. Thanks for your help!
Where you put the nozzles is going to be 1/4 quick connects on the gun wand. The other side you likely have M22(?), for sure the hose connections and output of pump is M22. Youll need a m22 to 3/8 adapters to connect to suttner gun and surface cleaner.
@Redjess ideally I'm going to just connect my hose Striaght to the surface cleaner gun and leave the suttner out of the equation in this scenario. So the setup would be hose-swivel-ball valve- then the surface cleaner or suttner depending on what I'm cleaning
I forgot about M22 connectors. I may have a couple adapters if anyone has a use for them. I acquired them from a man I bought a hose off of.
@Ikii You really think I would be lying about my read time?? I just now created an account so I could ask questions, you don't have to have an account to read. Thanks for all your help.
You've struck the mother load of information here. All at your finger tips. Good luck. And welcome aboard, I also agree with the Simpson hose. Hard to handle, heavy and the ends do not come off or swivel ,use it as back up. Go to pressure tek or alike and get new hose, 100' minimum, gray or black. Then you can install your new swivel with QC 's
Thank you for the advice @Hotshot, I really appreciate it. Ive been battling between just continuing on upgrading with my current setup or just going ahead and buying a fully rigged trailer, or maybe just buying a trailer and installing all of my stuff on that. Ive mostly just been waiting until I had a steady stream of business bfor I jumped the gun on that, but I've been having a hard time getting started. I've washed 4 houses so far and have been improving with each one tremendously, and have been advertising heavily on facebook with a business page. What would y'all say are the best ways to get your business off the ground and rolling??
Bingo. If you have it built. A… you won't learn anything or know all the in's and outs of your rig ,till your stuck on a job with a broken rig and scratching your noggin,It happens, even with new stuff. B …The rig builder will make the decisions on your build, not you,because ya really don't know what you want. Usually they'll take advantage of this…My advice is to search n read on the topics you wanna dive into. GPM,HONDA gx690,UDOR PUMPS are king. 8 gpm across the board,residential, commercial, and fleet. If you wanna do commercial or fleet ,I'd go with a hot washer @8gpm @3500 psi. I don't do residential or commercial, so my advice would be , ask the pros on here as to SW ,SC,X jet etc. Commercial and fleet will be better served with a double axle trailer , 3500 lb minimum, with at least 1 axle having brakes. Bigger hot skid machines= more weight and bigger buffer tanks. Or a 3/4 or 1 ton truck with a flat bed or utility box. Sky's the limit buddy. Long as your piggy bank is.
@Sasquatch Here's some pics of the fittings, st 1500, sc gun, ball valve/swivel, and my runny dinky hose end
@Hotshot yes sir for sure, there sure seems to be a ton of upgrades in this industry which is really exciting. This is more of a bridge job for me until I start with my sports management career, I'm 18 and wanted to work on my own time so some researching lead me to pressure washing. Just hoping to get off the ground and start securing consistent business.
Welcome!
The blue are quick connects for garden hoses. I would toss them to the side unless you want to use them for you supply hose.
Red are your 3/8 quick connects. They're 3/8" npt (national pipe thread).
The yellow is a M22 fitting. A lot of homeowner pressure washers use m22. Your Simpson might use them for the hose. If it does install that on the pump outlet so you can convert it over to regular 3/8" quick connects when you get new hose.
That should be a 3/8" quick connect on your surface cleaner. If you want to be able to insert your gun onto the sc just change that out to a 1/4" quick connect.
The ball valve is 3/8" npt. You'll want to install 3/8" quick connects on there.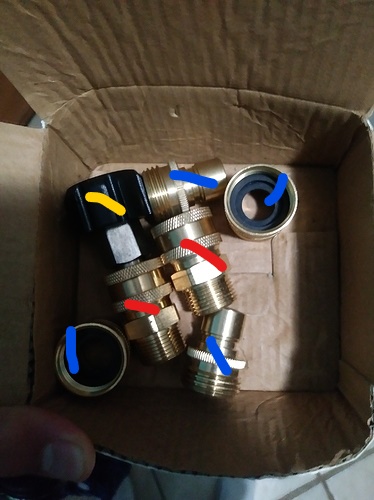 I also agree with @Hotshot . Don't buy pre-built. Get a trailer and build it yourself so you know how to fix anything that breaks. Plus, you'll save some $$$.
@marinegrunt thank you for your help! None of those 3/8 qc that I had would screw onto the ball valve, they were too big. I'm guessing it needs a 1/4?
I thought I read above that it was a conversion kit or something so I just assumed it was to swap from M22 to 3/8". It's probably all 22mm stuff except for the garden hose qc. The qc I marked in red is probably a M22. Take the one I marked in yellow and see if it's screw on the end of the red.
While you're at it figure out what size your pump outlet is. Take that fitting I marked in yellow and see if it screws on the end of your pump where the pressure hose is hooked up. You need to just do away with all of the m22 fittings except the one that might needed to adapt your pump outlet to 3/8". It'll just be easier in the future dealing only with 3/8.
The ball valve is 3/8". It says it right on the side.