Hello everyone, my name is Alex and after much time spent planning I'm looking to finally "pull the trigger" and start my business. I've been doing a lot of reading on here lately and am very grateful for the wealth of knowledge and information. Little about me: I'm 24, currently doing welding and fabrication work but have always wanted to start my own business. I have a little experience with consumer grade power washers (nothing more than 2700 psi) on flatwork, but no experience with houses or roofs or anything like that. I'm a quick learner, high attention to detail, and love interacting with customers so that we both win.
I'm located in San Antonio, Texas and I believe this is a great area to start a new business as competition seems minimal and the city is quite large. Driving around the nicer parts of town you see many houses that could benefit from a good washing. I have a good network in town including mentors from a few local business owners(unrelated to pressure washing).
Here is the breakdown of expenses so far(still learning excel):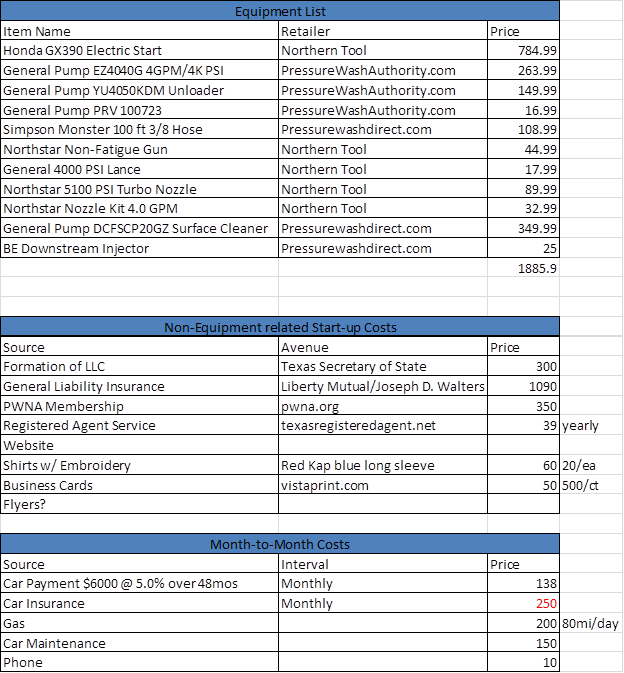 I know I'm missing a few things like chem tanks and all the fittings.
As you can see I'm looking to assemble my own unit. I want to do this because I feel I can get better equipment while staying in my budget ($4000 for everything excluding the truck), and also getting to know all my equipment a little better. I plan to weld a skid together that everything will sit on in the back of the truck until I get the funds down the road for a trailer.
My current plan is as follows:
Start working on website
Register business with state, get IRS tax id, open bank account
Purchase truck, equipment, business cards etc., assemble and test everything
Wash family driveways/houses at no cost (ask them to review/like my pages) track how long it takes to do different size houses/driveways, gas use, chem use, and get more proficient in general
Use info I gathered to get better at pricing and overall effeciency
Extend to friends and people in network, possibly do some discounted cleanings for certain people and then go talk to all neighbors offering services and quotes
Market with flyers, door to door, online
Grow business and eventually move to commercial/contractual jobs
I know I blasted a lot of info out, but I'm really just excited to be honest! All feedback is appreciated and ask any questions as I'm sure there is still a lot that I missed.
Thanks, Alex