Lol, quality went to crap when Ken bought Xterior
Lol that's awesome!!!..
IT'S THE WATER SAVING VERSION !!!
That is the 250,000psi model, hole is so tiny you can't see it.
Yeah needless to say but I couldn't get it to draw soap.
@Donut , I am so very sorry you received an item that had an manufacture defect. I am not sure where you purchased the M5DS Twist, but a quick call to your Distributor or to us directly when you received it would have resulted in a correction right away. In my 11 years here I have only come across one other plug that was not drilled out from the manufacture like that. We pride ourselves in the quality of our products and have taken measures through the years to increase the quality control of our assemblies. This one obviously slipped by and for that I am truly sorry for any inconvenience. @Donut, Feel free to call me if you need anything!
Sincerely,
Dana
Xterior 919-779-7905
X-Jet Technologies 1-800-983-7467
@Innocentbystander It was really disheartening to see such a negative comment in this thread about Ken specifically and the quality of our products, especially when there has been zero changes in the materials of our X-Jets (Other than the improvement from a brass plug to stainless steel!). We understand you get most of your products and services from our competitor across town, which is fine by us, but when you have needed us, we have been here, ready and willing to help you in anyway. In reviewing your history, there have only been 3 items returned out of 98 items purchased over the past 5 years. It seems a bit unfair to publicly criticize our products and services when you have not personally had a discussion with us about any issues you have experienced. Please feel free to contact us. We would welcome an opportunity to have that conversation.
Xterior and X-Jet Technologies both remain family owned small businesses. Like most companies, we strive to make a profit but the proudest of my 11 years here has been our purpose. Which is helping people make money to support their families. It has been gratifying to help one man operations turn into several rigs with employees or helping someone supplement their income when they lost their job by countless hours of free consultation and advice. I could tell endless stories of the good we have done that far outweighs any negative. As the old saying goes, "You can please some of the people all of the time, you can please all of the people some of the time, but you can't please All the people All of the time"…although we show up everyday and try!
If 3 out of 100 bad parts are getting by quality inspection then IBS is correct on his quality remark.
That's 30 out of 1000.
Thats not good quality I'm sorry.
If you sell 1000 parts a day and 30 are bad???
Just my opinion!
I made a comment based on my experience. That's what this forum is for. Not sure what my purchase history has to do with it or why it's public information. I stand by my statement, but welcome to the forum.
I stuck this in the lounge. Maybe it will stay drama free lol.
Geez. I knew I wasn't missing out on much by not buying one of those things!
In all honesty, they work great, just not for long before the fins warp and the pattern distorts
Who invited her?
Or told on you?
She's been here since 2009. With one post. I'm not going to say anything about her since I put this in the lounge and she can't respond. I say what I say, and mean it. Y'all should know that by now

I don't really care what others think.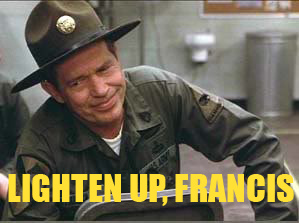 I understand not wanting drama.
…but…uhm…Dont know.
Moving on…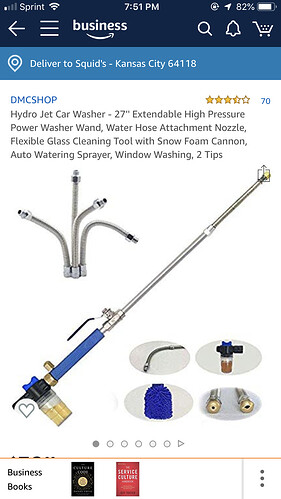 @Donut
But wait!! There's more!!
Dang… i actually totally forgot about that stupid nozzle. Bob asked for pics and never heard back from him.
Ill order a plug on next order, but im in no hurry to use it. Or get ole dana to send one for when i figure out where i put it.
@squidskc they had one of those at bed bath and beyond when we registered for wedding. It was just the lance portion, someone actually bought it and i must saw its awesome for washing undercarriage of truck.


jrod vs M5DS
I still like the m5ds but I do wish they had better durability. The new one I bought this year wore out in a month and a half. That's not worth the money IMO. Someone should make one that's more durable, you would get my money.