@Ikii Holiday today, trying out some smoked turkey legs on my new offset smoker.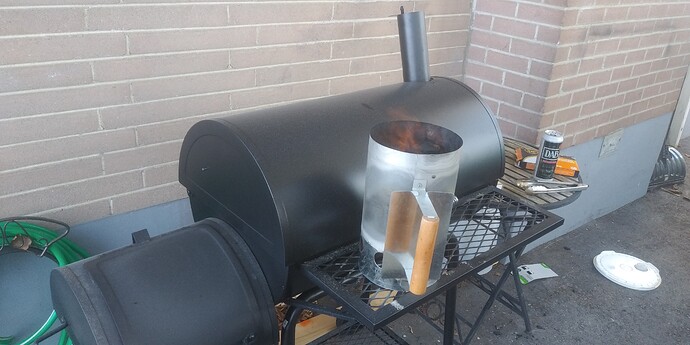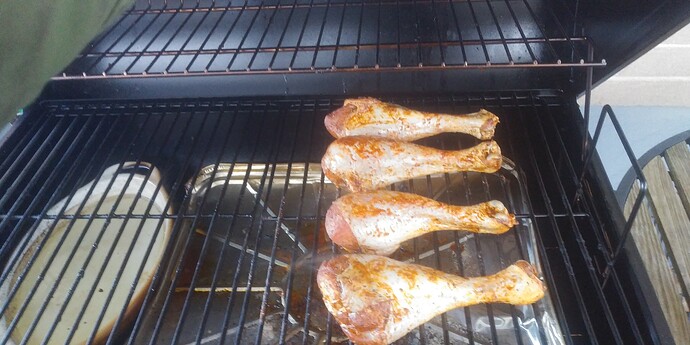 Fired mine up yesterday for chicken breasts and pork steaks
Epic. I have wanted one for years, they are really hard to come by up here. But, the wife made it happen, lovely surprise!
I tried doing a whole chicken last week. It was horrible. I used some mesquite, and the skin was overwhelmingly smokey, you couldn't even taste the seasoning. I am learning though, and I did some ribs that turned out great.
If you dont like the mesquite try an oak or hickory. Some use cans of beer in them I use Pepsi
Can't believe I forgot about that. Thank you sir!
Nice smoker !! Btw take tips from everyone, like @Ikii @Firefighter4hire, @12_B and the fella above,
NOT @Donut. Hes a newbie smoker and eats his flap jacks with ketchup, That should raise a flag within itself.

Ha ha ha. Okay, here's a question: Should I soak the wood I am using in water or just toss it in dry on the coals?
Dad soaks his. I don't I guess alot is personal preference and availability. I walk out back to get whatever I need.
If I'm cooking alot I just use wood fire
I soak the chips over night.
And use a tray of water under the meat, mixed with honey or maple syrup.
You can throw a couple of cloves along the chios or in the water along with annise dry stalks
@Ikii never thought of the honey idea!!!
Get some fire wood to cook with. Oak preferably. Gonna take a lot of charcoal to feed that thing.
And read this
@DantheWindowMan you can soak your chips if you want. I use apple juice to soak mine. I only cook with hickory and pecan. Fruit woods can ruin a cook fast stay away from them till you learn more. Meat will only take 3 hours of smoke what wood you use after you wrap it is not that important heat and temp control is all that matters. You gotta pick a method low and slo or hot and fast they are vastly different. Also the way you cut meat will determine the way it tastes if your not familiar with trimming meat learn before you do anything else.
What purpose does soaking have? Not burn as quickly?
Wet wood makes more smoke
Makes sense. I did some more Jalapeños the other day.
@DantheWindowMan… order one of the Weber iGrill thermometer set ups. @Firefighter4hire recommended it and its awesome for my simple use. I got two meat probes and a grill temp lead. Will likely get another meat probe since i have room to add one more.