Best Buy has 'em on sale
We bought two, one as a backup…lol
You can watch those Gators good with those. They're playing well.
Yes sir, can't wait

Only problem is, my wife thinks it's to big…lol…no such thing as "to big".
No, but there is such a thing as "too big".
Sorry, couldn't resist

We have a 27 TV from Walmart that's about 20 you years old. Kids have all kinds of adapters hooked to it to play their Xbox games but it still plays westerns and Bogey movies.
Wow

Picked it up last night, watched some gladiator this morning, amazing detail, great sound. Cannot believe it was only 400, heck that's only 4 house washes! lol
Probably because maybe could be that the app liscensing is very short. In other words, certainapps will no longer work after 2 yrs. I could definitely be wrong.
You're doing it wrong. If you add on the driveway and roof you could get it with only 3 jobs. I did order a Lincoln tomahawk 625 this week though. So, I guess I got a plasma also.
Picked up a 50" 4k smart tv for $128 a couple days ago. Going in the new shop/office. Ha
Where at? I'd like one that size for a guest bedroom.
Walmart, 50" for $128 and 55" for $148. Insanely cheap! Great deal
What state are you in? Was it a special? This is the cheapest I show online. Would love to bring one home at that price that you listed!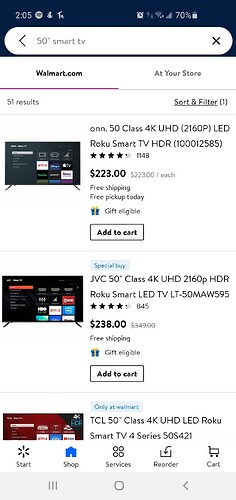 I saw it in store yesterday but no clue about now
…My bad thought we were still talking about the best buy deal